Our weather has been a bit crazy lately.  From low 30′s to the 80′s.  Today we have scattered thunderstorms and it's cool, while yesterday hit 91 degrees.  So trying to get the necessary spring cleaning done has been a bit more tough than usual.  This makes irregular salon peeks.  People don't like to drag their dog out when it's wet or cold, they feel they 'need their coat' to stay warm or don't want to walk through the rain after a day of grooming.  In Chicago, especially the north side where I work, tend to walk to most places.  Having a car isn't a necessity.  South side is a bit different, which is where I live.  Different life styles for different areas of the city.  So with slow days, I try and accomplish as much as I can, that I have pushed off through out the winter.
Wednesday, windows were all open!  I love heat and warm weather!  So I used that time to take the dogs out, they've been getting board.  We went to the beach, and then they had to be cleaned since they took a bunch of sand home with them.  They really loved the water since it was so warm out.  Then I had to sweep all the sand that was blown out of Yuki's coat, so I used the rest of the day to sweep, mop, clean the ceiling fans, and beat the rugs.  The kids tried to help as best as they could.  I couldn't get a picture of Yuki dragging the rug outside, I was laughing to hard.
Yesterday I had windows and doors open again!  I dropped off lunch for Julio at work, and the kids were happy to see dad on his lunch break, and then I went to home depo to gather some flowers for the garden.  Now in Chicago, we don't have to much land space on our properties.  Especially in the more apartment lifestyle.  When we moved in, we just had a line of rocks, and this really ugly bush in this 12×6 dirt plot.  Since we live in the basement level, we are below the sidewalk, and living so close to Sox park, lot os people walk by and our little dirt plot collects a good amount of garbage.  Every week there is a day of venting about the new papers and trash collecting in here.
Usually we just use this area for the dogs bathroom area.  They both know that the dirt plot is their potty area.  Sometimes we'll let Aladdin go and pee on his tree so he can doggie facebook with the other dogs in the neighborhood that always stop to leave their mark.  I was tired of dirt, which turned into mud when it rained.  So I gathered measurements and went off to get plants and mulch.  All pre-annuals as to let them get big and take over, of course with some guidance from me.  And when we do decide to move, pre-annuals are easy to separate and take some with us!  The dogs took well to the mulch which will help with the muddy paw problem on rainy days.
Today is scattered rain.  So we focused on finishing up the cleaning on the inside of the house.  I measured Yuki today and found my color pencils.  Julio's version of cleaning is finding an empty spot and putting it there.  So I was able to color in all her growth marks that I've just been using pencil for.  My markers and color pencils were placed in the utility closet… not sure why, but they are now back with the rest of my art supplies.

I've also been taking a few veterinary classes to help solve problems I see a lot with grooming dogs.  Being aware and knowledgable always helps, so I always try to further my education.  I also have a lot of planning to do.  The new year is starting for us groomers, if you follow the grooming competitions.  Our years are biannual.  So every two years we start with a new slate for competing.  This allows new competitors to try for Groom Team USA.  I'm also working towards my masters and with all the shows that are closer to home, it makes it easy for me to take my practical tests.  Of course Yuki will be my non-sporting test, I just have to find a Cocker Spaniel, long legged terrier, and short legged terrier.  It's hard than you would think.  So it takes a lot of prep time.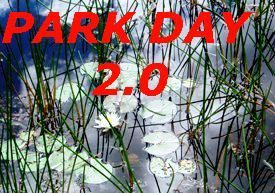 The last thing we're going to try and fit into our schedule is Park Day 2.0 Bingo!  We have a few things already done, and you'll be able to see with all our pictures of what we've been up too.  You can play too!  You just pick a bingo card, we've picked bingo card #2.  Then post a blog about it!  I have a few more to go before we get a bingo!  You can thank Gizmo and Finn for hosting this fun little game!